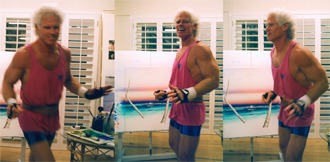 Hal loves to paint, dance and exercise... sometimes all at once ... to the Blues!

Nature and the Blues ...
Hal Stowers is constantly concerned with communicating with others on many levels. To get his messages across, be they purely aesthetic, ecological, documentation of areas to be preserved, or spiritual, he uses a variety of methods and implements, including brushes, sponges, pencils, air brush, and his fingers. He listens to music and dances as he paints. In a quote to accompany the commemorative art for the First Tampa Bay Blues Festival in 1995, he explains, "I seek to capture the rhythms, balance, energy, color and pristine qualities in nature. Listening to the Blues as I paint helps me translate my heartfelt sensations into the art form. With regards to basic elements, Nature and the Blues have a lot in common."

In addition to the Blues, he paints to rock, soul and reggae. It was 1975 when he first heard the voice and tropical reggae rhythms of Bob Marley, originating from the neighboring island of Jamaica. During the next two decades while cruising the waters of Florida and the Caribbean, and while creating in the studio, Marley's reggae music, incorporating elements from rock, soul and blues, set the mood for Hal to explore the sensual qualities of his tropical environment.

Although he has a sense of art history, and favorite Old Masters, he is not concerned with whether his art is considered to be impressionistic, realistic, abstract, minimal or any other label. Just as nature is constantly in flux and evolving, so is his imagery. It is important to consider the entire body of his work as a whole to see how each medium and period reveals different qualities and aspects of our natural world. Regarding the changes and various periods in his art, he says even he doesn't totally understand -- it "just happens -- that in creating his art he has "a lot of Help."

He's very thankful that this is his life's work. Hal says he wants others to love nature as much as he does -- to observe it, love it, and interact with it -- all the while treading lightly." His creative flow requires large doses of nature on an everyday basis.

In becoming familiar with new locations, he spends time "just being there" -- soaking up the local color. He likes to talk to the locals of the area about their environment and special concerns. What he refers to as "field work" often involves studying a particular habitat or site over a period of days, from sunrise to sunset, and in different weather conditions.
He says he "becomes" a sea grape ...
He paints natural processes involving elements of water, sky, earth, growing, living things and that which has ceased to live. As he paints, he says he "becomes" whatever he is painting, be it water, shifting sand or a sea grape leaf. A sand dune is a sea of white which may be coming or going defined only by an edge of water or sky and a few shadows. The tide and sky seem also to be in transition, the sun captured at a moment of its setting. Sea oats and sea grasses gracefully and rhythmically slice through sky and water, or struggle to survive, appearing and disappearing as they crawl along, sculpting the sand. Often a single shell, placed and painted in an enticing way says "pick me up" to the viewer. The horizon line is always level and provides stability to what is sometimes a subtle, or very strong, "blending" of colors and action in the form of lines or color areas. The edges of the work are important. White paper may serve as foreground, if the viewer so chooses. Often, airbrushed passages will make the very edge of the work shimmer. He loves to "play" with light and takes liberty with its source and direction.
Pristine moments & heaven on earth ...
His paintings provide an aesthetic experience similar to being surrounded by nature, with just enough "Super Real" details to help the viewer enter. In a spiritual sense, they provide access to a world in a pristine state, at a pristine moment. He describes experiencing certain moments in nature as "moments of heaven on earth."

This "pristine moment" is, for many of his collectors, an important and soothing relief and contrast to the urban environment. They say it is like a tonic. His art is a bridge, bringing back to memory places and sensations they have experienced. They like to surround themselves with his images. The art helps them express to others their own sensitivity, feelings, appreciation and regard for the natural environment. They say it helps them see in nature things they have never seen before. His collectors will frequently discuss with him, or amongst themselves, a "Hal Stowers Sunset" they have recently experienced. Hal wants his art to lift people's spirits. He also hopes that living with his art will help them on an every day basis in making sensitive decisions which affect our fragile natural environment.

In a quote to accompany his first exhibition in 1971, Hal Stowers states: