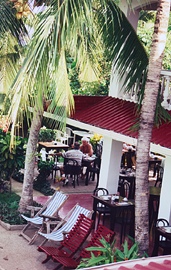 Breakfast outdoors with a friend
at our charming small hotel.
The tropical native flavor,
vivid colors, exotic sounds,
and picturesque beach
captured our
sensitivities.
Our adventure included mixing with the interior exotic rain forest and experiencing the very active volcano, Arenal. That night we were constantly awakened and watched out our window, as the volcano kept noisily erupting with huge plumes of gaseous smoke and red molten lava cascading colorfully down its slopes.
Hal was moved to paint Costa Rica's breathtaking beaches and coves ... resulting in the limited edition mixed media works entitled "President's Beach, Playa Hermosa," and "Playa del Coco."

Costa Rica

Click Here to see art Hal
created from this Adventure --
go to "President's Beach"
& "Playa del Coco"