Happy Bayou, our Home Port, is a mangrove rimmed "hurricane hole" and marine nursery. To celebrate this setting, we have always named our boats "Mangrove Momma." In addition to time spent cruising up and down the coast of Florida and The Keys, on board our floating studio, Mangrove Momma IV, we lived and worked on board two weeks of every month. The week of the full moon and the week of the new moon found us anchored off our barrier islands of Caladesi, Honeymoon, Three Rooker Bar and Anclote Key. A boat has always been a critical tool to allow Hal to mix with the elements -- he likes to experience a location at different tides, time of day and weather. We spend long and concentrated periods of time observing shorebirds and other wildlife, storms, waterspouts, and incredible sunsets which envelop us 360 degrees.

Countless images were inspired and/or created on board these vessels, including the hand pulled, hand colored original lithographs which make up "The Florida Wilderness Suite," the "Home Again! Suite," the "Anchorages I Suite," and the "Islands Suite," as well as etching/aquatints and innumerable one-of-a-kind watercolors and monotypes.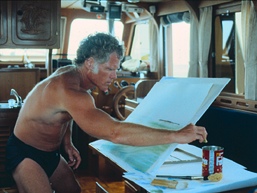 Hal found it super exciting to paint on board (with Reggae music mixing
with the fresh salt air)
Here he creates a watercolor of
Anclote Key from Three Rooker Bar
On board Mangrove Momma IV
Summer 1985
Happy Bayou -
Home Port for
Mangrove Momma

Click Here to see art Hal created from this Adventure -- go to "Sun Sea Odyssey"
& "Sea Path"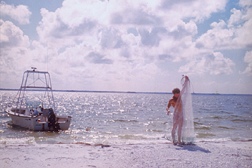 Getting bait at Dog Island
Mangrove Momma II with tower
Summer 1978
In addition to observation, field work requires "getting intimate with the environment" -- fishing, snorkeling and diving.